"History is a discipline widely cultivated among nations and races. It is eagerly sought after. The men in the street, the ordinary people, aspire to know it. Kings and leaders vie for it."
Ibn Khaldan, writing in the 14th century AD, summed up the complexity and the fascination of the past which ensured that History was a necessary part of what educated, civilized people were expected to have. Six hundred years later an enemy of the subject provided a more succinct but equally compelling argument for the subject:
"Awkward people Historians, they ask questions." Nikita Khrushchev
History is both illuminating and questioning, it has the power of literature and the critical reasoning of science. It should form the basis of anyone's conception of the world.
"The past is another country. They do things differently there." L.P. Hartley The Go-Between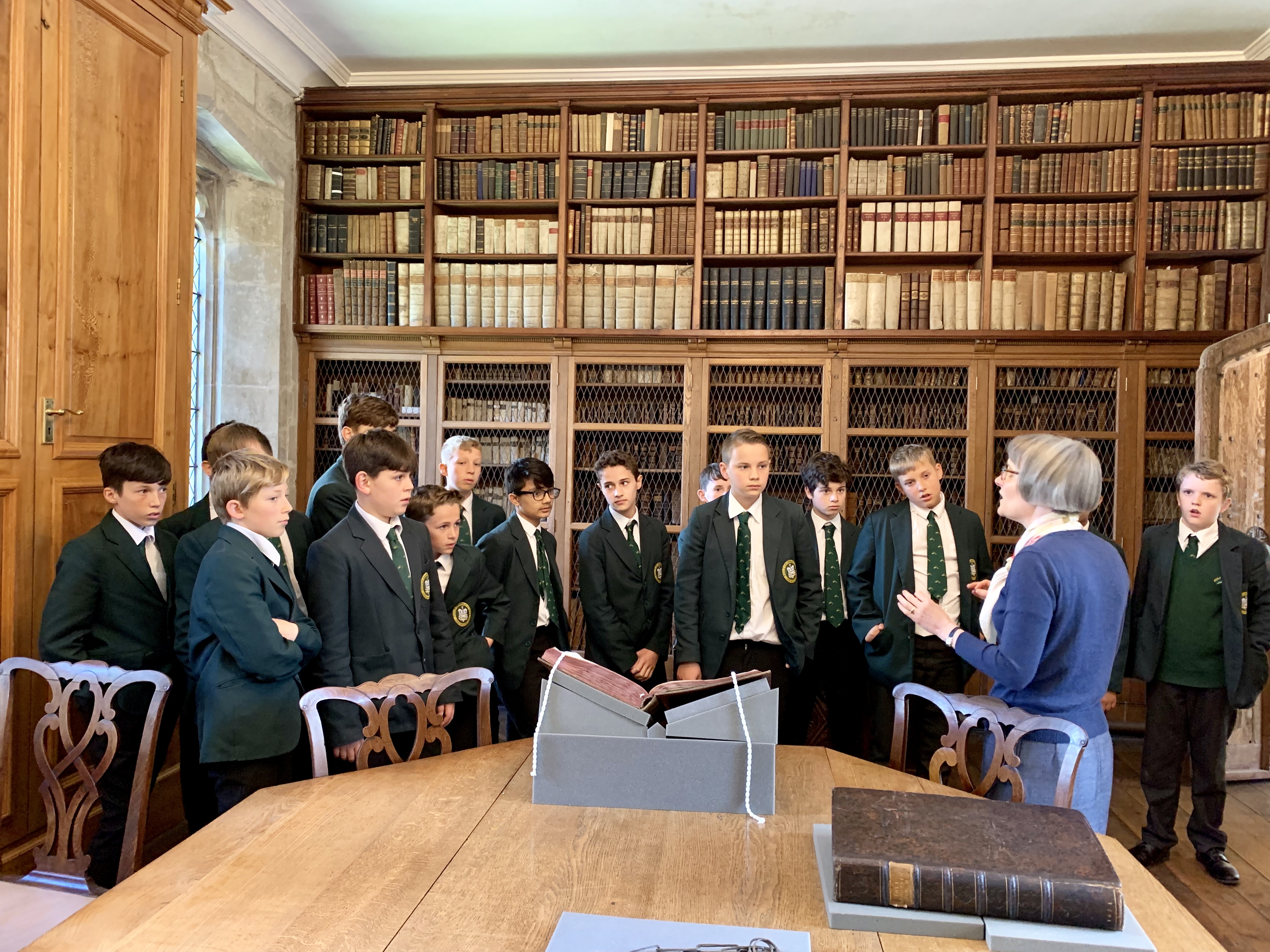 What will I learn?
To understand the past is to understand what makes us who we are. We are all products of the past and every decision taken is informed, consciously or unconsciously, by the past. Therefore, History is an essential element of a developed society, its collective memory, its resource bank of ideas. It is also a subject which demands a full range of skills: analysis, evaluation of evidence, questioning, research, formulating and testing hypotheses and, almost uniquely now, requires the essay writing skills of cogency and coherence within a literate answer. We are fortunate within Poole Grammar School to have a department of committed and interested historians whose expertise ranges from the Palaeolithic to the Present Day. Consequently we offer a range of subjects and opportunities both in class and in extra-curricular activities which is hard to match. Whatever form of History you prefer you are likely to find an enthusiastic reception; be it building Iron Age coracles or the political affiliations of the Parliamentary Army in the Civil War or the literal back-stabbing of Ancient Rome.
 You will learn about the topics outlined below which will provide you with a good understanding of the history of Britain, Europe and the World and your place with in it. As significantly you will develop skills that are invaluable such as how to analyse and interpret evidence, how to select and prioritise illustrations and ideas, and how to weigh and evaluate arguments.  
Key Stage 3
 The focus at Key Stage 3 is to establish the skills and interest which prepare students to be life long learners and to be informed and critical citizens. It also should stimulate them to wish to engage in further study of History. The re-worked KS3 syllabus focuses on Britain and World, Year 7 to 1492, Year 8 1492-1900 and Year 9 the c.20th.
Key Stage 4 AQA GCSE History
This course is designed to explain to young people their place in the World by looking at the relationship between Britain and the World over nearly two millennia.  It also explores the creation of our Modern World.  Furthermore, History as a discipline teaches us how to sift evidence for relevance, how to prioritise and how to evaluate opinion and argument. It is thus a key building block in critical reasoning and in human understanding.  Historians are, as Khrushchev put it "dangerous because they ask questions"- no society can long survive without a clear sense of History and nor can you.
Key Stage 5 OCR History
The course (outlined below) has been chosen to give students a good grounding in British, European and (to a more limited degree) World History. The coursework element also allows students to explore and research into their own area of interest.
Key Stage 5 OCR Ancient History H407 Options 12 and 21
The course (outlined below) has been chosen to demonstrate the enormous debt the modern world owes to their ancient precursors. It gives students an excellent grounding in a variety of texts and emphasises the importance of evaluation and context in historical decision making. It also allows students to work not only with textual sources but with works of art and architecture, plays and archaeological evidence
Past Students
The skills of History have always been sought after by employers as they can sift evidence, evaluate and present ideas in coherent and cogent prose.  Historians run things: 4 US presidents in the last hundred years had History degrees. Many leading writers: Melvyn Bragg, Salman Rushdie, Alan Bennett were Historians first.  Historians have left Poole Grammar School recently to join the army, law, finance, the Church, rural estate management, archaeology, politics, international recruitment and one is a tour guide at Macchu Picchu and one is a comedy writer and performer for the BBC!
What will I do?
Key Stage 3 Curriculum
 Year 7
 Year 8
 Induction – Richard III and the Princes in the Tower 1483-1485 – This unit again sets us off with a 'murder mystery' but one with many written sources which we carefully unpick to allow students to reach informed conclusions on the basis of evaluated source material.
Islam c.600-1500 – This is to give students a non-European and social-religious study. Focusing on the expansion of Islam after the death of Muhammad and the societies and empires created in his wake.
Crusades 1095-1187 – This unit links with the previous one to show how civilisations clash and interpret each other very differently. The focus is on the First Crusade and the Kingdom of Jerusalem until its defeat at the battle of Hattin in 1187.
Tudors 1485-1603– The dynasty which in many ways formed modern England raising from civil war to becoming a European power whilst breaking with Rome and experiencing a series of religious upheavals before reaching a peak under Elizabeth I. We will question many of the assumptions which attach to this period.
Stuarts 1603-1714  – Succeeding to the Tudor throne the Stuarts both acted to unify Britain and also, through Civil War, to divide it. Finally, and if time allows, we consider the creation of Parliamentary power in the Exclusion Crisis. 
Year 9
Jack the Ripper – in common with the previous years we start with a 'murder mystery' this time the evidence is written as in year 8 but very much more open to interpretation and the suspects manifold. The task is to come up with reasonable conjectures not an answer.
Origins and Course of World War One 1870-1918 – This provides both a background to the c.20th  and to the GCSE course but in and of itself explores how we explain multi-causal events and how we make judgements about interpretations of German War Guilt, or Haig's responsibility for the failure on the Somme.
Origins of the Modern World– this course starts with the Russian Revolution which provides, alongside the First World War, the basis for the ideological and political make-up of Europe until 1991 at least. We then  look at the growth of extremism in the inter-war period before exploring the Second World War.
Holocaust – this is, quite rightly, one of the few government requirement in the course as it questions how societies can crumble into barbarism all too easily. The course is not just an examination of the horrors but should lead to thought-provoking conclusions which hopeful spread beyond the classroom.
Independent Project – we firmly believe that our students deserve the chance to engage in meaningful research and to follow their enthusiasms so we require them to complete a project which not only requires them to formulate and test a hypothesis but to do so whilst rigorously evaluating the sources they are using. This often produces results of startling quality.
GCSE AQA
Paper One: Section A: Period Studies: Germany 1890-1945 Democracy and Dictatorship
This period study focuses on the development of Germany during a turbulent half century of change.  It was a period of democracy and dictatorship-the development and collapse of democracy and rise and fall of Nazism.
Paper One: Section B; Wider World Depth Studies: Conflict and tension between East and West, 1945-1972.
This wider world depth study enables students to understand the complex and diverse interests of different states and individuals and the ideologies they represented.  It focuses on the causes and events of the Cold War and seeks to show how many conflicts occurred and why it proved difficult to resolve the tensions which arose during the Cold War.  This study also considers the role of key individuals and groups and how they were affected by and influenced international relations.
Paper Two: Shaping the Nation: Section A Thematic Study: 2C Britain: Migration, empires and the people.
This thematic study will enable students to gain an understanding of how the identity of the people of Britain has been shaped by their interaction with the wider world.  It will consider the ebb and flow of peoples into and out of Britain and evaluate their motives and achievements. It considers the causes, impact and legacy of Empire upon the ruled and the ruling context of Britain's acquisition and retreat from Empire. Students will study the importance of the following factors as they influenced Britain's dealings with the wider world. *war *religion *government *science and technology *the role of individuals.
Paper Two: Shaping the Nation: Section B British Depth Study
Medieval England – the reign of Edward I, 1272-1307This option allows students to study in depth a specific historical period.  The depth study will focus on the major events of part of the reign of Edward considered from the economic, religious, political, social and cultural standpoint and arising controversies.
A Level History
British period study and enquiry: Britain 1930-1997
Interpretations depth study on Churchill 1930-1951 – focusing on Churchill's role in opposition 1929-1940, his period as wartime prime minister and his international diplomacy 1939-1951.
British Period Study 1951 – 1997 – including Conservative Domination 1951-1964, Labour and Conservative 1964-1979, Thatcher and end of Consensus and Britain's position in the World 1951-1997 
Italy 1896-1943: Non–British period study:
 Examining the social and economic background of Italian democracy 1896 to 1915 including the trasformismo governments and the foreign policy.
Then looking at Italy's role in the First World War and the consequences of its involvement, building to the rise of Fascism to dictatorship by 1925. Finally the nature and actions of the Fascist regime at home and abroad 1925 to 1943.
Thematic study and historical interpretations: Changing Nature of Warfare 1792-1945
Examining how all aspects of warfare: direct military factors (such as soldiery and generalship), planning and preparation, economic and technological factors impact on the nature of battle and war across the period.
There are three depth topics within this: The French Wars of Revolution, the US Civil War and the Western Front on the First World War.
Topic based essay: otherwise referred as 'Coursework' or 'Non-examined Assessment"
Unusually Poole Grammar School allows students, with guidance, to choose their own coursework topic and to work on it independently to allow them to pursue their own passions and work in a truly independent fashion.
A Level Ancient History
Greece
 Period Study: Relations between Greek and non-Greek states 492-404BC
Concentrating upon the Persian Wars and the Peloponnesian War.
Depth Study: The Politics and Culture of Athens 460-399BC – including art and architecture, theatre, philosophy and religion.
Roman         
Period Study: The Julio-Claudian Emperors 31BC to 68AD featuring Augustus, Tiberius, Caligula (Gaius), Claudius and Nero.
Depth Study: The Breakdown of the Late Republic 88-31BC looking at why Rome descended into Civil War under Sulla, Pompey, Caesar and Octavian 
Will I get homework?
Key Stage 3 – In Key Stage 3 homework is set to give students the chance to develop and consider answers more fully or to engage in individual research. Homework is set once a cycle (every two-weeks) and should be around 30 minutes duration. It will in a range of forms: some research, some discrete questions to be answer and some project work. One piece will be an Independent Project set over a half-term in Year to allow students to develop their our ideas and pursue their own interests.
Key Stage 4 – At Key Stage 4 homework forms an essential part of the course allow for revision, reflection and practice questions to be attempted to develop the skills and acquire the knowledge required for success.  Homework is set once a week but should take at least an hour to complete to a satisfactory standard.
Key Stage 5 – There is no formal distinction made between any set work and students need to learn to plan and research with increasing independence. Consequently, the tasks are both larger and are completed for greater periods of time. There is a combination of source-based analyses and essays as well as one two-term coursework piece which has to be produced independently.   
How will I be assessed?
Key Stage 3 – specific tasks will be set as Common Assessments and these will target specific core skills within the subject (as shown on the Key Stage 3 assessment grid and within the scheme of work). This work is graded but other, more routine work may be marked but not graded as the teacher decides.
Key Stages 4 and 5– Work is marked throughout according to the examination board guidance and mark schemes and reported to students as such. This will be the case for all homeworks, tests and internal examinations as this is the best preparation for high performance in external examinations. Mock examinations take place in January for both Year 11 and Year 13 and internal examinations in Year 10 and Year 12 both in June.   
GCSE Exams
Paper One written exam: 2 hours: Understanding the Modern World 84 marks 50% of GCSE: Section A-six compulsory questions (40 marks) Section B-four compulsory questions (40 marks) SPAG (4 marks)
Paper Two written exam 2 hours: Shaping the Nation 84 marks 50% of GCSE: Section A-six compulsory questions (40 marks) Section B-four compulsory questions (40 marks) SPAG (4 marks)
A Level History
 British period study and enquiry: (unit group 1) Britain 1930-1997
Students study one of the 13 units available, each of which constitutes a substantial and coherent element of British History. The Enquiry is a source–based study which immediately precedes or follows the outline period study. British period study and enquiry (Y101-Y113)
50 marks        1 hour 30 minutes paper     25% of total A level
Non–British period study: (unit group 2) Italy 1896-1943
Students study one of the 24 units available, each of which constitutes a coherent period of non–British History. Non–British period study (Y201-Y224)
30 marks        1 hour paper                         15% of total A level
Thematic study and historical interpretations: (unit group 3) Changing Nature of Warfare 1792-1945
Students study one of the 21 units available. Each unit comprises a thematic study over a period of at least 100 years, and three in–depth studies of events, individuals or issues that are key parts of the theme. Learners will develop the ability to treat the whole period thematically, and to use their detailed knowledge of the depth study topics to evaluate interpretations of the specified key events, individuals or issues. Thematic study and historical interpretations (Y301-Y321)
80 marks        2 hour 30 minutes paper     40% of total A level
Topic based essay: (unit Y100)* **
Students will complete a 3000–4000 word essay on a topic of their choice, which may arise out of content studied elsewhere in the course. This is an internally assessed unit group. A coursework consultancy service is available.      
3000–4000 word essay (Y100/03 or 04)             
40 marks        Non exam assessment                   20% of total A level
A Level Ancient History
The assessment system will consist of two examinations (one for each of the two modules).
Period Study:         
Greece Relations between Greek and non-Greek states 492-404BC
Roman: The Julio-Claudian Emperors 31BC to 68AD
One essay (out of 30 marks) from a choice of two plus one historical interpretation question based a secondary historian's view (out of 20 marks).   
Depth Study
Greece: The Politics and Culture of Athens 460-399BC
Rome: The Breakdown of the Late Republic 88-31BC
One essay (out of 36 marks) from a choice of two plus one source question (out of 12 marks).   
What guidance and support is available?
In order to support students to gain their best possible grades we have a series of support sessions manned by Subject Ambassadors, a series of revision sessions led by teachers on exam technique and we have an extensive and well-used departmental library and well-stocked collection of exam handbooks, films, videos and powerpoints available the school Moodle (virtual learning platform).
What extra-curricular opportunities are available?
The department provides a huge variety of opportunities to develop your interest in the past:
Clubs
The Historical and Archaeological Society has weekly meetings on Thursdays for lectures and talks on a range of topics from 'Iron Age Bog Bodies' to 'Worst Elections in History', from 'Alexander the Great' to 'Eustace the Vilest Monk in the Middle Ages'
HARD – practical building projects run on Friday lunchtimes, recent activities have included building trebuchets to fit in a shoebox, making Roman Wax Tablets and constructing tank dioramas.
Debating Society – hone your ability to argue and discuss by taking on others in verbal battle.
Departmental Magazine – HARD Magazine which is written by and edited by students in the department.
Public Lectures – every term there is a public lecture by a leading academic recent talks have included: The East India Company, Edward I, the Neolithic in the Cotswolds and the End of the First World War.
Trips
Year 7 Salisbury Cathedral
This visit is to explore the significance of religion to the medieval mind. With guided tours of the cathedral, the Magna Carta and the library and archive it gives a rich introduction to cathedrals. We also visit the 'doom painting' in St. Thomas' Church a marvellous survival from the late Middle Ages and another window into Medieval thought.   
Year 8 Corfe Castle
To study a military technology and power. This ties in with later requirements to study an Historic Environment. Run jointly with the Geography Department this gives all students the chance to apply their historical knowledge to a physical structure.
Year 9 Trench Trip to France and Belgium
This ever-popular trip not only builds on the students' knowledge of the First World War but deepens their understanding of its impact. Our expert guides explore the significance of 'ground' but we also weave in visits to the graves and sites associated with old boys of the school, as well as weaving in tales from the families of boys on the trip to give it freshness and immediacy each year.     
Year 12/13 Visit to Rome for Ancient and Modern History
In conjunction with the RP department we visit the main sites of Ancient Rome and Ostia Antica (the former port, every bit as impressive as Pompeii). This gives students an understanding of the power and majesty of the empire and of the ordinary lives of some of its inhabitants. We also visit sites associated with the Risorgimento and the Fascist period to bring the story of the Eternal City to life. 
Year 12/13 Visit to Auschwitz and Krakow
There is arguably no more important trip than this one. Though non-curricular it always has a huge impact on those who go. We attempt to set the Holocaust in its European and Polish contexts before visiting the Labour and Death Camps and take in the recovering if small Jewish community of Kasimierz to show that not quite all was lost.
Year 12/13 Visit to the British Museum and a Greek Play for Ancient History
To understand the power of Athenian culture at its Periclean height we are fortunate enough to have the Parthenon Marbles available to us and we combine this with a visit to a Greek Play performed by King's College London to embed students in the rich Greek culture they have studied.
Year 13 Trip to Bovington Tank Museum
This seminar day brings together visiting historians to explore the pivotal changes in technology and war which occurred during and just after World War One. We can explore a trench system, see many exhibits and go inside a Mark IV 1918 tank. All of this brings the Changing Nature of Warfare alive.